Dream Woman Wanted - Online dating service for Eastern Europe
Dating sites on the internet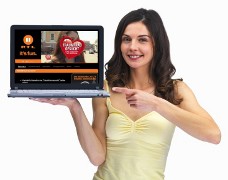 In the age of globalization, the world is closer. The internet is making it easier to communicate across national borders. Social networks like Facebook, Twitter and Google+ allow new acquaintances and friendships to be made. In addition, online dating sites are enjoying great popularity. Many couples who come to the altar in our day have met each other through an online dating service. Whether we're looking for new friendships, shopping for clothes, or trying to find the man or woman of our dreams, the internet is rapidly changing our lives in many ways! "Love knows no boundaries" is what GenerationLove, one of the most popular online dating services for Eastern Europeans, stands for. For many years, GenerationLove has been successfully bringing singles from East and West together.
History of Matchmaking
In Eastern Europe and in various countries in Asia, such as India, matchmaking has been in existence for centuries and continues to play a crucial role in finding a partner to this day. Especially in rural areas, it was not easy to find a partner of the same religion or the same social class. Kinfolk were often used to help find the right partner. Later, this task was increasingly given to a hired marriage broker. With the invention of printing, personal ads in newspapers became increasingly important for matchmaking.


Matchmaking is therefore not an invention of the internet, but rather goes back many hundreds of years. The development of the internet has, however, revolutionized matchmaking as much as the invention of printing did five centuries ago. With the internet, matchmaking services have taken on a whole new importance in Western culture. Dating sites like eDarling, Neu.de, Parship, Elitepartner, Friendscout, Interfriendship [eHarmony, match.com, OkCupid] or GenerationLove can be found all over the internet. There is hardly a single person who hasn't at least checked out one of these sites.
Matchmaking in the Media
There is hardly a TV station that hasn't reported about online dating. Whether on VOX, RTL, Pro7, Sat.1, RTL II, Kabel 1, ARD, ZDF [ABC, CBS, NBC] or other TV stations, reports about online dating are very popular. Not only do documentaries about dating sites interest an audience of millions, but dating shows such as "Farmer Wants a Wife," "Daughter-in-Law Wanted" or "Dream Woman Wanted" ["The Bachelor", "The Bachelorette"] bring in the ratings.
But the internet knows no boundaries. More and more women and men are broadening their horizons and having luck finding a partner further afield. But those who look abroad and then fall in love still have to face prying questions back home. The many stories in the media show how much the search for happiness and a feeling of security keeps people busy. Reports about looking for a partner abroad often, however, only give a very incomplete picture. Old stereotypes and prejudices seem to cling on stubbornly, even in an increasingly globalized world.
Cliché #1: "Lonely unsuccessful western man seeks woman from eastern Europe"
This idea is wrong. It's true that a binational relationship is a serious option for men and women from all walks of life and professions. Online dating sites, whether local or international, are aimed at those who have embraced the digital revolution. People with very busy professional lives particularly find the internet a great way to find partners. In an era of globalization, countries and people are closer than ever before. Modern means of communication are increasingly defining our everyday lives. The search for a partner no longer has to stop at national borders. Searching for partners across borders is now a matter of course for open-minded people in a modern society.
Cliché #2: "Women from Russia are looking for a man in the West to get out of the country"
This, too, is false. What's true is that it's actually very few women in Russia and in Ukraine who are looking for a life partner abroad. Women in Eastern European countries are deeply rooted in their homeland and their family. For women from Eastern Europe, looking for a partner abroad is just one option. It is important to understand the reason for it! In countries such as Russia and Ukraine, there are more women than men. According to the 2010 census, there are ten million more women in Russia than men. The situation is similar in Ukraine. The cause cited by UN investigative reports is the worryingly high mortality rates among men that are well above the global average. For women from Russia, Ukraine and Belarus, family is very important and is the source of their security. But for many women, the desire for family remains unfulfilled, because there are not enough men of a marriageable age. This is the reason why women from Ukraine, Russia and Belarus consider looking for a partner abroad an option. Although relatively few women are willing to leave home to start a family, the women who do are from all walks of life. These women include everyone from successful business women with a very good income to women from more modest backgrounds. GenerationLove offers women from Russia, Ukraine, Belarus and other countries in Eastern Europe a safe and protected environment to look for a partner on the internet.
Cliché #3: "The Business of Love"
Sure, for many TV stations, shows about finding a partner bring in the ratings. This indicates the great longing for relationships and family happiness in these fast-changing times. But unlike often portrayed by part of the media, neither true love nor family happiness can be bought. Reputable dating agencies on the internet are NOT a marketplace for love! Online dating sites help their members find one another and offer the best possible assistance in the process. Like everywhere else in life, there are black sheep among the various sites out there. Those who fall prey to fast promises will certainly be quickly disappointed. It is a common mistake made by women and men who think they can fall in love online with just a few clicks. Those who succumb to this fallacy are sure to have problems in their search for a partner in real life, too.
Dating Across National Borders
Searching for a life partner abroad can be very difficult. However, cultural differences and language barriers are not unsolvable problems, but rather a challenge to love and happiness. Reputable dating services, such as GenerationLove, help singles in their search for the man or woman of their dreams. To do this, GenerationLove works together with local dating agencies. Single women primarily turn to these agencies. The local dating agencies then give advice and practical support from the first contact right up to the first meeting.
Reputation is the Be All and End All of Matchmaking
With our website GenerationLove.com, we have been making matches for many years and always in a strictly reputable and professional manner. GenerationLove does not deal with contact details and treats scam attempts with great care. Local dating agencies look after the women from Ukraine and Russia and give them the best possible assistance and protection in their search for a partner. Read more about our dating service for Eastern Europe.
What Women Want
Women around the world want security, love, safety and a partner for life. Eastern European women are no exception! Love cannot be bought and yet there are little things you can do to show a lady how much she means to you. GenerationLove helps you choose the right flowers and gifts. Our unique service will help you screw up the courage and show the woman of your dreams what you are feeling and what she means to you.
If you would like more information about Ukrainian and Russian women and their lives, read our informational pages about Women from Ukraine and Women from Russia.
What our Customers Say
Many users have shared their GenerationLove experiences. We are pleased that so many happy couples have found each other through our dating service. Some have written to tell us their story and we have received permission to share it with you. We have put together some testimonials for you: GenerationLove experiences
Start your search NOW!
If you're not already using GenerationLove to search for your soul mate, you can register now. Registration and your membership are free! If you would like to learn more about how our service works, you can find more information in the section "How our Dating Service Works"